"Imagine, if you will, a berserk B-movie horror films producer with a twisted sense of humor who puts up a million dollars to anyone who can survive his seven movie theme worlds of bloody terror."
Illbleed is, even among the Dreamcast's avant-garde library, something of an anomaly. To label the game as "experimental" would be an understatement. Many found the game's bizarre humor and oblique gameplay to be a bit much. Others consider Illbleed a horror masterpiece, sitting among not only the best horror games on the console (a high accolade in and of itself), but of all time.
Few people know Crazy Games' swan song production better than Jorg Tittel. Not only did he introduce the game to North American audiences back in Official Dreamcast Magazine Issue #8, he happens to have been immortalized as a playable character in the game itself. A seasoned writer, director, and certified SEGA Kid, Tittel sat down with Mega Visions to talk about his storied career in the gaming industry, to reminisce about Crazy Games' late director, Shinya Nishigaki, and to explore his upcoming game, The Last Worker.
SEGA Kid
Tittel grew up in Tervuren, Brussels, during the 1980s, "in a neighborhood of rather unfriendly farmers" who'd shout even if he as much as looked at their cows. At six years old, he discovered video games via Pong. Though Tittel attributes these early memories of playing Pong in his friend's garage as the start of his gaming journey, it was through the SEGA Game Gear that he truly came to love the medium.
"The summer holidays that we had to do with my parents in the south of France… tended to be quite boring, especially on rainy days, which were rare, but when they happened you could do nothing. I was just stuck on the middle of a mountain with nothing to do. And so, the Game Gear (with its six batteries that ran out after fifteen minutes) was a godsend."
Tittel later acquired many of SEGA's home consoles, including the Mega Drive, CDX, Saturn, and Dreamcast. He loved the "spirit" of the company, and how they encouraged each internal development studio to forge their own identity.
"They never seemed to have a formula, which was quite extraordinary, and quite risky as it turns out, as it didn't necessarily help them in the long-term (laughs)."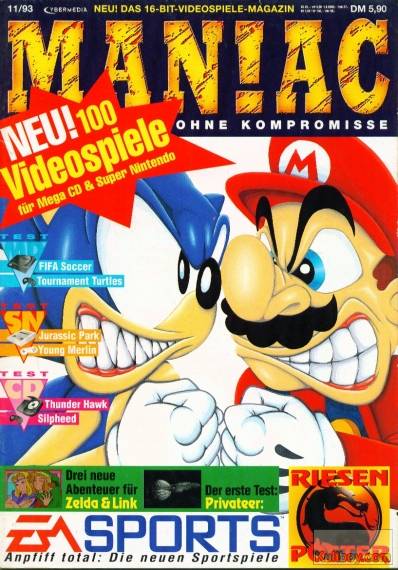 Moving into the 1990s, Tittel began importing Saturn games from Japan. As international launch dates weren't the norm then, he took delight in playing games months before European audiences. The process of importing, however, was a costly one, and pushed Tittel to explore avenues for making cash to help feed his habit. Man!ac, a German publication, offered monetary rewards for cheat codes and secrets sent in by readers. At first, Tittel went about this process the hard way, trying all manner of different button combinations until he came across something that worked. However, he soon discovered a more efficient way to unearth cheat codes.
"I figured out that with my imported games that I could just buy Famitsu as well… And there was a cheat section in there. Because the games came out a few months ahead of time, I was pretty sure they would keep the same codes for the European releases."
Tittel later moved to New York to study theatre. School, however, was quite costly, and even with financial support from his parents, Tittel was unsure of whether he could afford to stay and finish his studies. One day, he decided to write to Man!ac, stating how much he missed reading the magazine. To his surprise, the editor responded, revealing that they were looking for an U.S. correspondent, and asked if Tittle would be interested in taking the job. He enthusiastically accepted, and was promptly assigned to cover Planet Moon Studio's Giants: Citizen Kabuto. Tittel's article would be the world-exclusive reveal of the game. Shortly thereafter, Next Generation magazine hired Tittel to write for them.
While at Next Generation, Tittel became friends with many of publication's editors and writers, including Chris Charla (now head of ID@Xbox) and several other prominent staff who would eventually pivot to Official Dreamcast Magazine.
"It was a really great time, and interestingly, a lot of that is thanks to the Dreamcast. We were all geeking-out over SEGA games."
Interestingly, in the entirety of his journalistic career, Tittel has never written a game review. In fact, he refused to.
"I wanted to talk about the craft and the people behind it. That's what was always interesting to me; talking about the people. I wanted to take it out of this thing where it was just this cartridge, made by this anonymous logo that delivers goods, that sort of branded entertainment and bullshit which now seems to be back with Marvel, etc."
This decision stemmed from the fact that Tittel did not want to become a critic, but it also had to do with his creative aspirations. Though he didn't have plans to make video games (back then), he did want to break into theatre and film making, and knew how hard the creative process could be.
"My goal was to one day be recognized as someone who can write, and direct, and produce something beautiful – who am I to criticize it?"
Nishigaki and Illbleed
Tittel became aware of Illbleed early on in its development. He was familiar with Nishigaki and the studio's work, having loved their Dreamcast launch title, Blue Stinger, though ultimately it was the game's name that piqued his interest, admitting, "I thought the name was completely insane, and I wanted to know more."
Tittel started talking to Nishigaki via email with the aid of a translator. Initially, Nishigaki told Tittel that he was looking for a publisher in the U.S. While Tittel stated he wasn't able to assist with that directly, he wanted to cover the game and get the word out. Eventually, Nishigaki came over to New York, and the two spent a week together in preparing coverage of the game, eating steak, and building what would become a strong friendship.
"We spent a couple of days in my apartment, midtown Manhattan, just talking about games, talking about his ideas, and going to steak houses… Nishigaki was obsessed with steak."
Tittel's preview was published in Official Dreamcast Magazine #8. Illbleed was featured on the front cover, captioned "Your 'E' Ticket to Horror". Inside, a two-page spread of protagonist Eriko Christy hobbling forward, gun in hand and covered in bandages, introduced readers to what would be a very different type of horror game.
Tittel's preview got Illbleed attention in North America. A publishing deal was soon reached, and Nishagaki was very grateful. After production of the North American version had begun, Tittel was invited out to Los Angeles by Nishigaki. To Tittel's surprise, Nishigaki wanted him to voice a character he had modeled after him.
"We went to San Diego, and Lani Minella was directing the voice-over session there. It was crazy. The script was completely batshit insane, I had no idea what I was doing, and the professional voice actors around me, comforting me, also didn't know what they were doing, but it was a blast."
During the short day-and-a-half Illbleed recording session, Tittel recounted a hiccup in translation they encountered in the script. With only a couple of hours left to record, he asked the other actors, "Hang on a second, guys. What's a belt conveyor? It's saying 'we have to go to the belt conveyors', and 'did you check the belt conveyors', and 'I found her on the belt conveyor'. What is a belt conveyor? It should be a fucking conveyor belt, shouldn't it?"
A collective gasp filled the room, and the actors went to work hastily re-recording every line they could track down with the words "belt conveyor" in it, which Tittel jokingly attributes the game's voice acting quality to.
When I asked Tittel about his thoughts on the game, he laughed, admitting that at first he didn't know how to play. However, he thinks the oblique design choices are ultimately what make the game so charming, and so memorable.
"Why would you make something quite as obtuse and quite as convoluted? Thing is, it's not. It's just refusing to fit within the norms of what one would call today 'AAA'."
Illbleed is, in Tittel's opinion, a "punk" game in the purest sense. It's a piece that shows as much love for horror and video games as it does speak to the creative process.
"It was very rebellious. The fact that you've got Zodick in there, the hellhog, he (Nishigaki) had an interesting and complicated relationship with SEGA because they were originally going to publish, then they didn't. I'm not sure if Nishigaki-san did that as an act of revenge or whether that was already in there."
Tittel stated that he felt there was something frustrated in Nishigaki, as he wanted his work to be appreciated. He compared Nishigaki to developers like Yoko Taro, who struggled in obscurity for years before finding recognition.
"He was also way ahead of his time. If you take a look at Blue Stinger, the huge scale of the environments, they were massive, and the camera work was, as a result, a mess… The technology wasn't quite there, and he probably didn't have the coding talent nor the hardware for it, but he should have had more backing from SEGA on it. I wish he had had that."
Though Tittel's character in Illbleed, a journalist named Jorg Baker, was introduced near the end of the game, a recent prototype build released via Project Deluge has shown that Crazy Games did at one point consider making him a playable character for the game's entirety. I asked whether the Illbleed Killerman stage, where players first meet Jorg Baker, had always been planned as a whodunnit and behind-the-scenes look at the park, or whether those details had been written specifically around Tittel's character. Tittel laughed, stating that since Nishigaki knew him as a journalist, he thought that would naturally make him a capable detective.
Ricky Rouse
Speaking of amusement parks gone wrong, I asked Tittel about his 2014 comic book production with artist John Aggs, Ricky Rouse Has a Gun. In the book, a soldier deserts his unit in the middle-east, eventually finding his way to Shanghai where gets work at an amusement park full of rip-off rides and characters. Tittel stated that it wasn't until a few years ago, when someone approached him about his character in Illbleed, that he realized how much of an impact his interactions with Nishigaki had made on his creative process. In fact, the book was born of a series of traumatic professional experiences more than it was homage.
"In L.A., I worked for Activison (Treyarch) as a junior game designer on Minority Report (it was terrible, don't play it). Activision was just as charming as all these subpoenas and other cases against them claim."
While at Treyarch, Tittel was also working as a budding screenwriter. He had written a script, and even put together a team of VFX artists and potential cast list, for the movie. During this time, he had been in contact with a director (did not wish to disclose who) and their protégé, helping them get in touch with the video game world via an agent. A few years later, to Tittel's surprise, said director's protégé made a movie which was Tittel's script, even going so far as to use the VFX team and cast members he had tabled.
"It was a really dark time. I was like, 'Fuck, I've just been screwed by one – no, two – of the biggest names in Hollywood. What am I going to do? Am I going to sue them? Can you sue your way into a career? Probably not, and I'll be forever known as the guy who had one idea and thought it was so sad they took it. I have a thousand ideas! I'll eventually come up with better.'"
Thus, Ricky Rouse Has a Gun was born. A story centered around the hypocrisy of rip-offs, Tittel sees Hollywood as the worst culprit.
"They're the ones who are doing remakes and reboots, and fucking buy a comic book license from a poor artist, make billions, and then pay them jack-shit. They're the ones who're ripping off. If they had original ideas, they wouldn't have to make super hero movies all of the time."
The Last Worker
Tittel is currently looking to adapt Ricky Rouse Has a Gun into both an animated feature and video game. However, before he brings Ricky Rouse to the screen, Tittel and studio Wolf and Wood are working on his debut video game, The Last Worker, due out in 2022.
The Last Worker is a narrative-driven adventure game set in a dystopian future where automation has gone rampant. Tittel reserved revealing too many plot details in our conversation, though stated that with its unique gameplay rhythm of stealth and action sequences, as well as a hard focus on story and character, The Last Worker is a game he would have been proud to show Nishigaki.
The game was shown at the Venice Film Festival earlier this year. Though the selection is a high accolade in and of itself, the fact that The Last Worker was the only game at the festival amplified pressure on the team to deliver something worthy of the invitation.
"Six weeks before the festival started, we found out that we were selected for it. We had submitted it (The Last Worker) not thinking anything would come of it because we had about five minutes of polished game at the time. When they said 'you're in', it was like, okay, fuck."
In addition to an all-star cast including Jason Isaacs and Olafur Darri Olafsson, Tittel collaborated with esteemed comic book illustrator Mick McMahon of 2000 A.D. fame for the game's art design. Tittel approached McMahon, eager to work with one of the greatest living comic book artists. During our conversation, he pointing above his head, referring to the nearly two kilos of art McMahon had produced for the game, including machine, character, and environmental designs.
"I wanted to do something that looked unlike anything else. That is always my starting point of everything. I want to make things that are unlike anything else. In a world of same-y, generic, proven, risk-averse, grounded bullshit, or things that try to look like the real world all the time, I went for the opposite… In a menu of infinitely scrolling thumbnails, yours is the one that will people will be clicking on."
The game is set to release on PC, Xbox Series X/S, PlayStation 5, Switch, and Oculus. Tittel states that the game will utilize a first-person perspective, immersing players into the dank and dangerous world. Development began on VR as Tittel wanted to ensure the game ran well on the least performative hardware first, making the porting process to more powerful systems easier. However, players on traditional platforms can expect the same gameplay loop and mechanics, albeit shuffled to account for things like free movement and other necessary control adaptations. Speaking of, Tittel stated that players can expect some interesting utilizations of the Joy-Con on the Switch version of the game, though remained tight-lipped on what exactly those would be, teasing, "I think we're going to be a narrative game which will be far more immersive and far more physical than what people are used to from story-based productions."
Reflections
In winding down our conversation, I asked Tittel about his reflections of working in so many different mediums, and whether or not he had a favorite for storytelling.
"During the pandemic, I have to say working in games is the best thing in the world because you can work remotely, you can release it remotely, and you can be sure in this modern world that when someone plays your game that they will be engaged with it throughout, because it's very difficult to second screen when you are playing a game. And when you're doing a VR game, it's completely impossible… What I love about VR… it's great to know that whoever actually experienced it, they didn't have the distraction of Tweets, or TiKTok, or the cat."
Overall, however, Tittel expressed love for all the mediums he had worked in, as each provides unique means by which to tell a story. Furthermore, the experience and technology utilized in each can carry over to others, as he pointed out with his wife's upcoming film, A Winter's Journey, which will feature hand painted rotoscope frames in the style of early nineteenth-century romanticists.
For the future, Tittel stated that he would one day like to return to the theatre.
"There's something about the immediacy and the communication with the audience, and at the same time to know that tonight is the only night that I will see the show this way. It's never going to feel like this again. Which brings it much closer to what a finely crafted video game feels like… if the player can have a unique experience every time they play it, then it pushes far closer to theatre than to film."
Finally, I asked if the opportunity arose whether Tittel would consider picking up the rights to Crazy Games' catalogue, and perhaps re-release Illbleed.
"I haven't thought about it, actually, because I wouldn't want to do anything like this without Nishigaki's permission, and he's not there to give it."
Tittel did go on to point out all of content created by fans over the past two decades since that game's release, and was so happy to see how much it still resonated and inspired people to this day. Furthermore, he revealed that The Last Worker includes a hidden nod to Illbleed, though fans will have to dig for it.
Huge thanks to Mr. Tittel for making time for this interview. To see more of his work, you can follow him via Twitter and the Oiffy homepage.
The Last Worker is set to release in 2022. You can follow its development via the game's homepage and Twitter feed, and can wishlist it now on Steam.
Some quotations edited for clarity.
Images and References
Allin, Jack. "The Last Worker." Accessed October 10, 2021, https://adventuregamers.com/games/view/44036.
Charla, Chris. Next Generation, May, 1999. https://archive.org/details/NEXT_Generation_53/mode/2up.
Comixology. "Ricky Rouse Has a Gun." Accessed October 10, 2021, https://www.comixology.com/Ricky-Rouse-Has-A-Gun/digital-comic/689760?ref=c2VhcmNoL2luZGV4L2Rlc2t0b3Avc2xpZGVyTGlzdC90b3BSZXN1bHRzU2xpZGVy
Jaleco. "Illbleed: Blood Donors Wanted." Official Dreamcast Magazine, February, 2001. https://archive.org/details/official-sega-dreamcast-magazine-2001-02.
McMahon, Mick. "Yet Another Dredd." Accessed October 10, 2021, https://web.archive.org/web/20150825050412/http://tuggingyourcoat.com/.
Oiffy. "Jorg Tittel." Accessed October 10, 2021, https://oiffy.com/jorg-tittel.
Tittel, Jorg. "Ticket to Hell." Official Dreamcast Magazine, November, 2000. https://archive.org/details/official-sega-dreamcast-magazine-2000-11.