Sonic Mania Plus finally has a release date after its reveal at SXSW last month.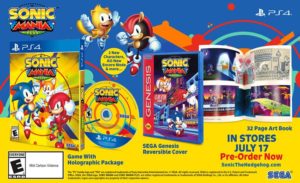 SEGA has officially announced that Sonic Mania Plus will be coming out on July 17th for all consoles. As stated in our previous article. The game will be a physically release, many which fans have pleaded for since the initial launch, and will feature old-school characters, Mighty the Armadillo and Ray the Flying Squirrel.
The case itself will hold a holographic cover as well as a reversible Genesis cover. It will also feature a 32-page book showcasing the concept art and screenshots during development. For those who purchased the original digital version of Sonic Mania on consoles and PC, an Encore DLC pack will be available for sale digitally on July 17 to upgrade to Sonic Mania Plus.
Here are some amazing screenshot from SEGA Press