News
Creator of Sonichu arrested for macing GameStop employee
CHARLOTTESVILLE, Virginia – The infamous creator of the Sonichu comic series and internet trolling target, Christian Weston Chandler, was arrested after attempting to vandalize a Sonic Boom display at the Charlottesville Fashion Square Shopping Center.
Witnesses reported Chandler entering the GameStop and being asked to leave by staff who recognized him after he was banned due to a prior incident. After staff dispersed to inform security of his refusal to vacate the premises, Chandler began to leave and in doing so sprayed an employee near the entrance with a substance confirmed to be mace.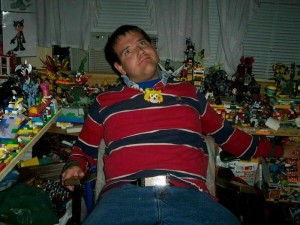 Half an hour after leaving the GameStop, Chandler was arrested outside of the shopping center. It is also rumored that CB chatter from the area picked up a report of a man fitting Chandler's description attempting to carjack an unidentified individual in the parking lot of the shopping center.
Sources confirmed Chandler has been jailed and is awaiting a hearing on the 29th of December.
Chandler's primary frustration with Sonic Boom was Sega's decision to color Sonic's arms completely blue, something he found supremely disturbing. Despite Sega's insistence that Sonic Boom was a spin-off and not canon, this did not abate Chandler's anger at the change.
Christian Chandler is a polarizing internet celebrity who came to the fore of popular trolling when his Sonic the Hedgehog and Pokemon cross-over comic Sonichu and disturbing images he had drawn made their way to Encyclopedia Dramatica. After fevered attempts at removing the page failed, Chandler instead embraced the new found fame and found himself trapped inside a web of plots contrived by trolls for years.
 Source: www.sonichu.com